Sep
22
Fri
Evergreen East Days @ Silver MTB Park @ Silver MTB Park
Sep 22 @ 10:00 am – Sep 24 @ 5:00 pm
Join Evergreen and Silver Mountain Bike Park for a weekend of fun at the Silveroxx & Silver Race Series Weekend #3. All of our members are offered a $10 dollar off lift ticket. Don't worry if you aren't a member already we are offering a year membership and lift ticket for the normal price of a lift ticket $35! Super turbo radness.
Racers will be running different parts of the mountain on different days so don't worry too much about that plenty of riding to be had even if you are not racing.
We are working on the organization of a group ride more details to come 🙂
---
**lift ticket discounts do not apply to racers who are already getting a healthy rate reduction for lift tickets.
Sep
24
Sun
Sekani Trail Maintenance Day @ Camp Sekani
Sep 24 @ 9:00 am – 11:00 am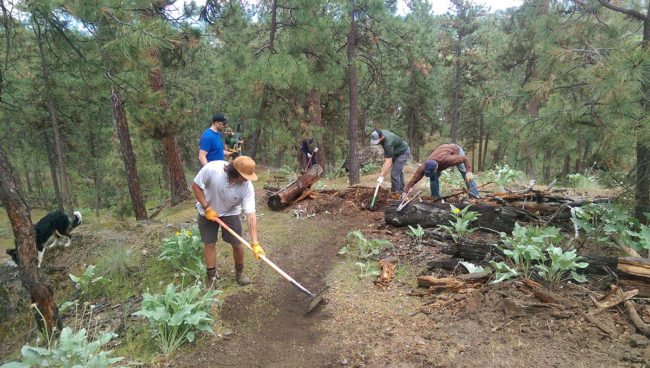 Join us for a short and sweet trail maintenance day at Camp Sekani on Sunday 9/24 from 9am-11am, we will break out into small groups tackling sections of braking bumps, blow outs, and dirt work in general. Bring gloves, water, and a snack. Bring a tool if you have a favorite but we will also have tools too.
Meet at the shed near the gate, park in the gravel lot by the disc golf area.
SilverRoxx Group Ride @ Silver Mountain Bike Park
Sep 24 @ 3:00 pm – 5:00 pm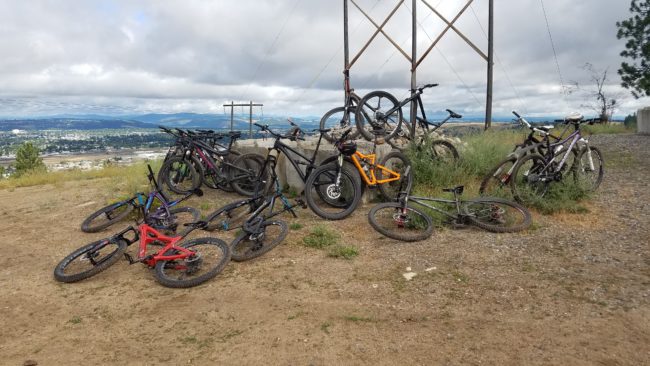 This could be your last lift access ride option for the year! Come join Evergreen for a Top-to-Bottom Silver Mountain Bike Park ride Sunday, September 24th. This will be a "No-Drop" ride open to all intermediate and above riders.
Meet at the gondola fire pit at 3pm. Bring water, snacks, and a spare tube for the ride down. Trail conditions are end of season, so expect dust, and bumps! Downhill bike capable bike recommended (disc brakes are a bonus), but not required.
Evergreen members will recieved a 10 dollar off lift ticket discount or new members can get a lift ticket for the same price of a normal membership 35.00!
Oct
8
Sun
Evergreen Enduro Eastoberfest @ Camp Sekani
Oct 8 @ 7:30 am – 3:30 pm
This year all racers get a free racer shirt just for signing up to race, don't forget to register early, it helps us track numbers and make sure we have your size.
Eastoberfest is an enduro race at Beacon Hill in Spokane Washington, put on by Evergreen East. Racers will start at Camp Sekani and go to the towers, it will utilize most of the hill and consist of five stages, with a few thousand feet of climbing and will showcase the great variety of trails on Beacon.
This is NOT the usual race courses at Beacon. There will be a mix of technical trails and flowing single track and a stage with jumps hit-able by all riders.
Great news this year camping is allowed, this is a City Park so please be respectful so we don't lose out on this in the future. Camping is Saturday only (sorry no Friday camping) and tear down on Sunday. No Fires Allowed!
Like all enduro races, the stages will be revealed a few days before the race. See below for a link to the trail system and maps. Also find additional information on our beloved MTB hill.
here, http://www.evergreeneast.org/trails/campsekanibeaconhill/
Itinerary (preliminary subject to change)
We will have the packets containing your race number for pickup at the Camp Sekani Dirt Jump Area just below the Hollywood Line.
Wednesday October 4th– All Stages released!!!
Thursday October 5th– Last day to register online
Friday October 6th– Practice, practice, practice
Saturday October 7th- Setup for Camping/Camp 🙂
Noon-4pm packet pick up at Camp Sekani Dirt Jumps just below the Hollywood line (head to the tent)
Sunday October 8th- Race Day Morning-
7:00 am volunteer meeting, assign jobs
7:45 am riders/safety meeting
8:00 am pro/expert race number pickup
8:30 am beginner/sport race number pickup
9:00 am pro/expert race start at towers
10:00 am beginner/sport race start at towers
Sunday Race Day Afternoon/Finish
3:00 pm- all racers finished
3:30 pm- race results and awards @ Beer Garden/Field Area
Dusk- Pack up camp sites, bask in your glory!
---
Last Year's Stages are below, you can use this as a reference point, but this year there will be 5 stages and use of different trails, the trail stages will be released only days before the race, staying true to the standards of enduro racing.
---
2016 Eastoberfest: Reference Race Stages;
Stage 1 – Pop Rocks (alt lines for beg/sport), Penny lane, the Myth
Stage 2 – Good twin, Tickler, Tire trail, Airport escalator
Stage 3 – Evil Twin, the Yard, the Dan, Simple tools
Stage 4 – The Bomber, Stahlingrab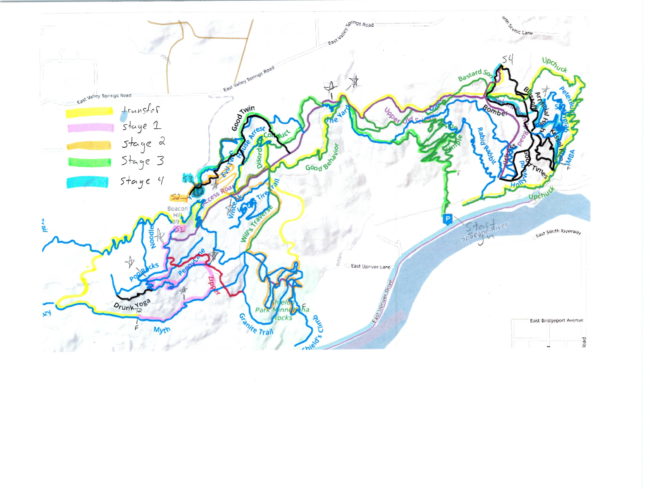 Registration Fees:
The funds from the race will go directly back to Evergreen East to support trail building and maintenance.
6707 E Upriver Dr
Camp Sekani
Spokane, WA 99217