Returning after a successful debut last year, our mountain bike skills classes are expanding in 2014 to provide you with more options to improve your riding.
Not only are there more basic skills classes, but we've added a freeride and intermediate classes as well. This year promises to be great for mountain biking in Spokane and we'd love to help you conquer your season.
Bring yourself, family, sports team, or co-workers out for a day of instruction and skill building and Evergreen East's certified instructors will help you become a better rider.
Classes are generally co-ed for riders aged 14 to adult but we can accommodate special groups or women's only classes if the demand is high enough. Participants must provide a helmet and a functional mountain bike outfitted with flat pedals — if you don't own flat pedals we can loan you a pair during the class.
Please direct skills class questions to classes[@]evergreeneast.org.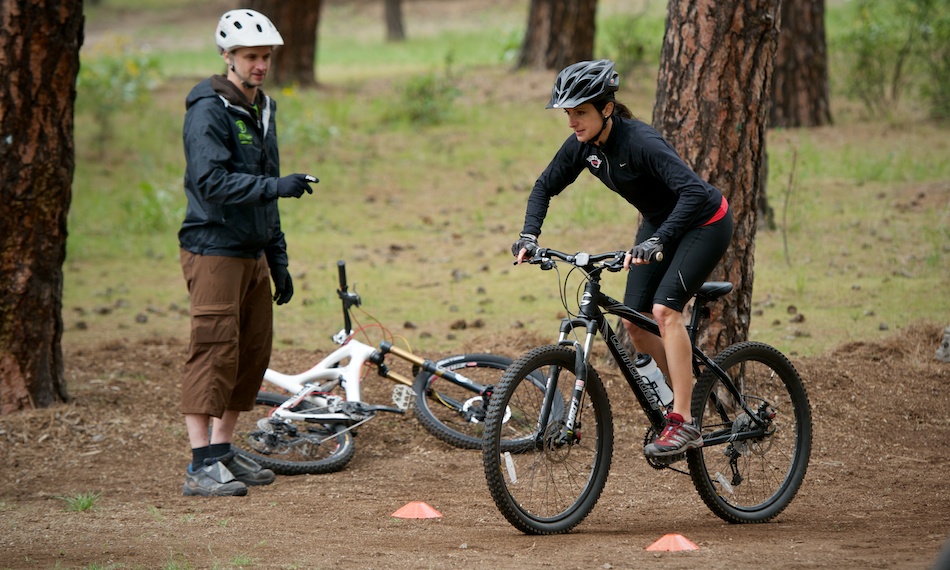 Basic Skills
If you're new to the fun of mountain biking, these 3 1/2 hour classes are for you. Learn to stay balanced and in control while you zip down trails comfortably riding over roots and small logs. Focus is on basic bike handling skills. By the end of this class you'll be negotiating tight turns, getting over obstacles, carving corners, and much more!
April 26: 10am to 1:30pm - Camp Sekani - Women Only
May 10: 10am to 1:30pm - Camp Sekani
June 14: 10am to 1:30pm - Camp Sekani
July 9 then 16: 6 to 8pm – Camp Sekani - Women Only

Sept. 27: 10am to 1:30pm - Camp Sekani
Intermediate Skills
Been riding for a bit, or already taken our Basic Skills classes? Ready to take it up a notch and expand on your skills? Join this 3 1/2 hour class to work on cornering with some speed, riding a tight line and getting your wheels off the ground. Please have either completed a Basic Skills class or be able to perform a competent front wheel lift.
May 31: 10am to 1:30pm – Camp Sekani
June 25: 5:30 to 8:30pm – Camp Sekani
Oct. 25: 10am to 1:30pm - Camp Sekani
Freeride Skills
We are stepping up the difficulty on this one. If you've progressed out of our other classes you may be ready to add a variety of wheel lifts and drop techniques to your collection of trail ready skills. This four hour class is 2/3 drills and 1/3 trail time. BONUS … This class will be held at Silver Mountain Bike Park. in Kellogg, ID. You'll get more practice than you know what to do with. Opportunities for trail manuals and reasonable drops abound. We're looking forward to a great time! All day lift ticket included
July 26: 9:30am to 2pm - Silver Mtn. Bike Park
Cost
Our skills classes are an essential part of our mission to foster mountain biking and trail advocacy. Our instructors are volunteers whose training and operating costs are funded with your tuition. The required annual membership supports Evergreen Mountain Bike Alliance and our Eastern Washington chapter.
Evergreen members: $30 Basic & Intermediate Skills, $65 Freeride Skills
REQUIRES CLUB MEMBERSHIP (either an existing or new one year membership)
Individual membership: $30
Family membership: $50