Mt. Spokane State Park
is one of the state's largest  parks and it is right in our backyard.  At 13,919 acres and  with elevations ranging from  to 3200′  to 5774′,  there is a lot of terrain to explore. Located less than an hour from downtown Spokane, the park provides multiple trail options through cedar forests, wildflower filled meadows, huckleberry patches and the high alpine.
Download mountain bike brochure
2016 Road Closure Information:
The summit road will be closed end of June  – October for road construction. Access will be very limited to residents, local traffic and those with permits. Check back for updated information. We hope to have some special Evergreen East access days for work parties. Check back for details.
Things you need to know about Mt. Spokane State Park:
A Discovery Pass is required for parking. You can purchase day passes on site, or annual passes here.

There is very little cell phone coverage, so ride prepared. There is no public water access.
Wildlife encounters are not uncommon, especially moose.
Trails are multi user: bikers, hiker and horses use the trails. Bikers must yield to hikers and horses.
Descending bikers need to be especially aware of other users.
The CCC cabin off of trail 130 is a Heritage Area. Walk your bike here.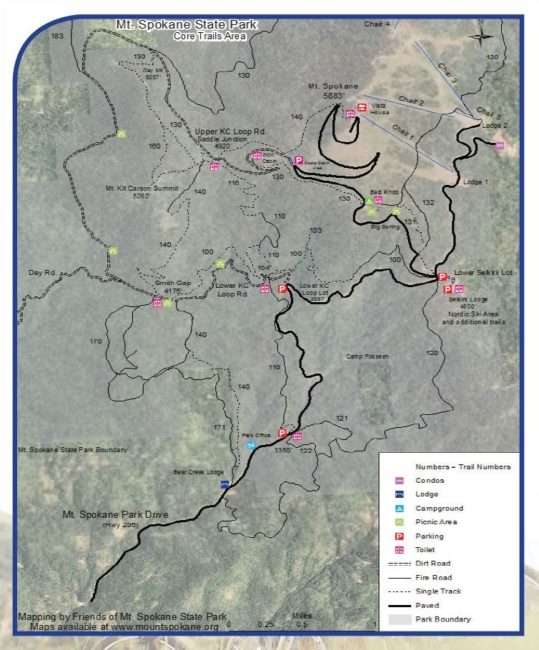 Suggested Rides
These shuttles and loops are only suggestions. Your imagination and energy are the only limits to how these and other trails can be combined.
Easier:
The Nordic area, map link above, has miles of rolling double track with spectacular views into Idaho and Montana. Riding to the Quartz Mtn. lookout is one fun option and there are many others. Start and finish your ride from the Selkirk Lodge
Mt Kit Carson Rd/110 loop:   This loop is 6.5 miles of gentle dirt road climb with about 1000′ feet of climbing over that length. Down 110 from Saddle Jct is the easiest descent trail.
Easier shuttle loop: Leave one car at the bottom of 110 parking area. Option 1 – park at the snowmobile parking lot, ride up the summit road to Bald Knob campground. Take 130 to the CCC cabin (walk your bikes through this  Heritage area) go up Kit Carson road for .2 mile, take the middle section of 140 to Saddle Junction, then 110 down the mountain back to parking.  Option 2, leave from Bald Knob campground.
More Difficult:
Shuttle: 140 "Full Pull" Leave a vehicle either at the bottom parking area or at Bear Creek Lodge, where there is a small day use fee to park. Shuttle to the summit, descend 140. There are four sections to 140. The top  and bottom sections are the most difficult with lots of loose rocks and roots. The two middle sections are easier.   After the third section dumps you out at Smith Gap, follow Kit Carson road to the left for about 100 ft, and then turn right to pick up the last section of 140. The bottom section "Jedi Trees" has steep root drops, tight trees, and loose chunky sections. Your ride ends at Bear Creek lodge, where they have burgers and cold beer.  Please note: this trail is heavily used by, but not limited to, mountain bikers. Be aware that there will be uphill traffic to look out for.
Shuttle variation, easier:  140/110  Same as above, but take 11o down from saddle junction. This is an easier route down than the bottom of 140.
Strenuous rides that involve climbing:
Full mountain 110 climb/descend 140:  park at the bottom, ride up  the road 1.5 miles to the switch back. Turn in on Kit Carson dirt road. Take trail 100 off to the right, then left on 110. Stay on 110 for 2.3 miles. This is a steady singletrack climb, with a moderate grade; grunty steep in a few places. When you get to Saddle Jct, take the Kit Carson road to the right, about 1 mile to the summit road, then ride the road to the summit. From the summit, take 140 down all the way, or take 140 partially then pick up 110 at Saddle Jct. This is a 14+ mile ride, with 7.5 miles and 3000′ of elevation gain. Note: Riders can ascend to the summit on 140, but it is heavily used with downhill biking traffic.
Alternate climb is Trail 120 that brings you out at the snowmobile parking lot.
Full mountain circumnavigation. Trail 130 goes all the way around the mountain from Bald Knob campground  through the ski area, around the back of the mountain and then back to Bald Knob. This route is approximately 12 miles with 3000′ of elevation change.